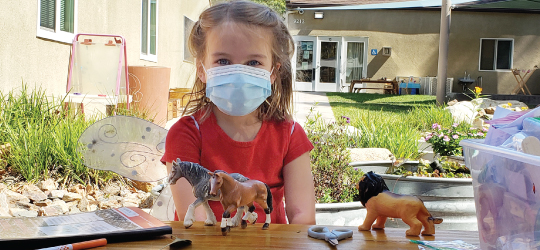 Returning to Childcare during the COVID-19 Pandemic
Current Plan Status (subject to change)
We implemented a new, resilient operations plan to improve safety.
Classrooms are open with 18 children or less in each room.
Groups do not share spaces (e.g., bathrooms and outdoor play areas).
Service hours are 7:30 a.m. to 4:30 p.m. (eight-hour window to facilitate sanitization, etc.).
To practice physical distancing, we began by enrolling preschoolers, followed by gradual enrollment of younger age groups over time in accordance with applicable guidelines.
We began serving families in the order below who are:

Priority 1 – Currently enrolled families at ECEC

First responders/essential health workers
CCAMPIS grant recipients
Faculty conducting research on campus
Staff and faculty families working remotely

Priority 2 – UC San Diego families not currently enrolled

First responders/essential health workers
Faculty

Priority 3 – Families of university affiliates: Salk, Sanford Consortium, Venter and La Jolla Immunology (staggered)
Centers will maintain consistent groups of 15 children or less with the same staff members. We may adjust mixed-age groups to keep siblings together. 
Tuition and Staff-to-Child Ratios
Current Available Programs
Monthly
Tuition
Staff-to-Child
Ratio
Group
Size
Number of Open
Classrooms
Young Infants (3–12 months)

$2,057

1:4

8

2

Infants (11 months and walking t
o 24 months)

$1,980

1:4

8

2

Toddlers (2–3 years)

$1,727

1:6

15

3

Preschoolers (3–5 years)

$1,570

1:10

18

6
Minimizing Contact
To the best of our ability, we will maintain a minimum of six feet of physical distance between children during unmasked periods, such as eating and nap time.
Parents, family members, visitors and specialty staff will not be allowed onsite or in classrooms.
Children and teachers will stay in their "stable," mixed-age groups and will not comingle or switch between groups.
Staff members will be wearing facial coverings (shields/masks). They may wear other Personal Protective Equipment, as necessary, such as smocks and booties.
Child Drop-Off and Pickup
A staff member will greet parents and children at the classroom entrance. The sign-in process will take place via parent's phone.
Guardians must wear face coverings during drop off and pick up.
Children over two years of age will be required to arrive at school with their face mask.
Symptom Screening
Staff and children must pass a symptom screening before entering the center each day. Screening includes temperature check with no-touch thermometer and visual wellness evaluation.
Staff will be required to complete COVID-19 symptom screening prior to leaving home each morning. 
Parents will be required to complete a daily questionnaire concerning potential symptoms or COVID-19 contact outside of the center.
Children will not be admitted if they have taken fever-reducing medicines within the preceding 48 hours.
Staff will monitor children for symptoms throughout the day.
An emergency contact must be available within 30 minutes to pick up a child who presents any symptoms
Classroom Environment
Children may have personal cubby of classroom materials that only they will use to reduce sharing of materials.
Children will spend more time outdoors.
Windows will remain open as often as possible for optimum airflow.
Administration will provide ongoing support for the health and wellbeing of children and staff as they navigate changes (e.g., special spaces for retreat, materials, mindfulness activities and access to wellness resources).
Sanitization Procedures
We will expand our standard cleaning procedures by sanitizing specific surfaces more often.
Staff and children will wash their hands more frequently.
Staff will:

Disinfect shared toys, materials, bathrooms, tabletops, door handles and yard surfaces between uses
Launder soft, machine-washable items regularly.

Sanitizing stations above children's reach will be available at all entry points and other designated locations.
Stay Home Guidelines
See the First 5 San Diego COVID-19 Symptom Decision Tree
Children may not enter the center if they, or anyone in their household, have these symptoms upon arrival or within the preceding 48 hours:
Fever of 100.0 or higher
Cough
Sore throat
Muscle aches
Difficulty breathing
Chills/Flu-like symptoms
Vomiting and/or diarrhea
Loss of smell or taste
If any symptoms present while a child is at the center, staff will isolate the child until a parent or guardian arrives for pick up (within 30 minutes). Children must stay home until symptom and fever-free for 48 continuous hours.
A classroom may close for up to 5 days (per COEM/Public Health) while teachers, children and families self-isolate if there is known contact with and/or positive COVID-19 case. If tested positive for COVID-19, a child will need a medical note to return to the center.
All staff and children may be tested for COVID-19 before returning to care. Note: Teachers will be included in the "Return to Learn' Program."
Protocols for Suspected or Confirmed COVID-19 Cases
If we suspect or confirm an active case of COVID-19 at one of our centers, we may need to implement a short-term closure. Our administration will:
Coordinate actions with COEM/local health officials
Dismiss children and classroom staff for:

2-5 days for deep cleaning and disinfecting process
Up to 5 days for quarantine

Communicate procedures and timeline with families
Provide virtual learning, if appropriate
All short-term closure procedures are subject to change depending on conditions and recommendations of COEM/local health officials.
Questions?
Contact us, (858) 246-0900, 7:30 a.m. – 4:30 p.m. weekdays.