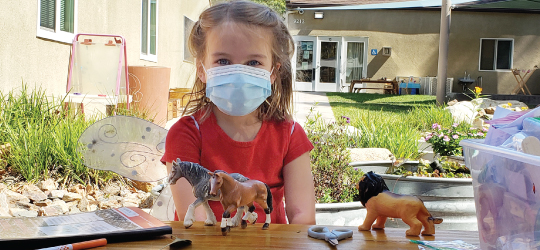 Returning to Childcare during the COVID-19 Pandemic
Early Care & Education resumed services on September 28, 2020. We will continue to follow current guidance from:
County of San Diego Health and Human Services
Centers for Disease Control and Prevention
UC Office of the President
California Department of Education
California Department of Social Services
Consultation with COEM/EOC/local medical experts
Our knowledge as early education professionals
Updates
December 12, 2020 Notification of Possible COVID-19 Outbreak at the Early Childhood Education Center 
Status
While our centers were closed, we were providing families remote learning opportunities and additional online resources.
Limited Operations and Gradual Reopening
We know that:
Childcare is essential to the support and success of our working families.
Childcare facilities will open with the adaptations necessary to provide safety measures that address health, sanitization and spatial awareness in the second phase of Stage 2 per the State/UCOP Resiliency Plan.
Research shows that young children, particularly infants under age one, have a higher risk of significant illness (COVID-19 and Children)
Children can carry SARS virus in their respiratory track up to 22 days and in bowel movements up to 30 days (org).
Proposed Return Plan (subject to change)
We will implement a new, resilient operations plan to improve safety.
Classrooms will open with 12–13 children or less in each room.
Groups will not share spaces (e.g., bathrooms and outdoor play areas).
Service hours will be adjusted to 8 a.m. to 4:30 p.m. (eight-hour window to facilitate sanitization, etc.).
To practice physical distancing, we will begin by enrolling preschoolers, followed by gradual enrollment of younger age groups over time in accordance with applicable guidelines.
We will begin serving families in the order below who are:

Priority 1 – Currently enrolled families at ECEC/MCDC 

First responders/essential health workers
CCAMPIS grant recipients
Faculty conducting research on campus
Staff and faculty families working remotely

Priority 2 – UC San Diego families not currently enrolled

First responders/essential health workers
Faculty

Priority 3 – Families of university affiliates: Salk, Sanford Consortium, Venter and La Jolla Immunology (staggered)
Staggered Three-Phase Return
 

Phase 1

Phase 2

Phase 3

Age

Full day and part day
2.5–5 years (toilet trained),
Kindergarten/school-age (5–8 years)
and virtual learning experience

15-24 months

12-18 months

Number of Classrooms

8

TBD

TBD

Staff-to-Child Ratios

1:10

1:6

1:4
Tuition
| Phase 1 Programs | Monthly Tuition |
| --- | --- |
| Full Day (15-24 months) | $1,922 |
| Full Day (2.5–5 years & toilet trained) | $1,525 |
| Full Day (2–3 years) | $1,677 |
| Part Day (2.5 years and toilet trained) | $950 |
| Kindergarten and school-age | $1,200 |
School-Age Childcare
Early Care & Education is temporarily providing childcare for school-age children (5-8 years old) of UC San Diego students, staff and faculty. Care is available weekdays from 7:30 a.m. to 4 p.m. with a capacity of 14 students. This temporary program will last through December 15, 2020 buy may be subject to extension.
This program is for students currently enrolled in an elementary school with a remote learning plan. Two teachers in the classroom will support the individual needs of each student and help to facilitate their online learning and independent work. Once students' remote learning is complete, teachers will facilitates daily enrichment activities, including music, movement/gross motor, yoga, dance, STEM and art.
Each student will have an individual desk/space. Families will be responsible for bringing their student's devices and headphones to school every day, along with a bag lunch.
Monthly tuition fees include a nutritious morning and afternoon snack. Prices are slightly higher for non-UC San Diego affiliates. A family with more than one child enrolled will receive a 10% reduction on the younger child's tuition.
If you are interested in the school-age childcare program, please complete and mail the Wait List Application to UC San Diego Early Care and Education, 9500 Gilman Drive #0962, La Jolla, CA 92093-0962 with a $35 non-refundable application fee. A separate application and fee must be submitted for each child. Please make checks payable to: UC Regents
Minimizing Contact
To the best of our ability, we will maintain a minimum of six feet of physical distance between children and staff.
Parents, family members, visitors and specialty staff will not be allowed onsite or in classrooms.
Children and teachers will stay in their "stable," mixed-age groups and will not comingle or switch between groups.
Staff members will be wearing facial coverings (shields/masks). They may wear other Personal Protective Equipment, as necessary, such as smocks and booties.
Child Drop-Off and Pickup
Parents will choose an agreed-upon drop-off and pickup time during enrollment. (Note: Any daily schedule changes will require one-hour advanced notice.)
A staff member will greet parent and child at the designated drop-off area outside the center to avoid contact with others. The sign-in process will take place via parent's phone.
The CDC recommends that only one designated guardian consistently picks up and drops off the child.
Guardians must wear face coverings during drop off and pick up.
Children over 2 years of age will be required to arrive at school with their face mask.
Children are required to wear indoor shoes/slippers in the classroom.
Staffing and Small Groups
Centers will maintain consistent groups of 12–13 children or less with the same staff members. We may adjust mixed-age groups to keep siblings together.
Staff-to-Child Ratio Recommendations:
| Age | Staff-to-Child Ratio | Group Size |
| --- | --- | --- |
| 0-18 months (infant) | 1:4 | 10 |
| 18-36 months (toddler) | 1:6 | 10 |
| 3 years (preschool) to kindergarten (school age) | 1:10 | 10 |
| 0 to school age (mixed-age groups) | 1:6 | 10 |
Symptom Screening
Staff and children must pass a symptom screening before entering the center each day. Screening includes temperature check with no-touch thermometer and visual wellness evaluation.
Staff will be required to complete COVID-19 symptom screening prior to leaving home each morning. 
Parents will be required to complete a daily questionnaire concerning potential symptoms or COVID-19 contact outside of the center.
Children will not be admitted if they have taken fever-reducing medicines within the preceding 72 hours.
Staff will monitor children for symptoms throughout the day.
An emergency contact must be available within 30 minutes to pick up a child who presents any symptoms
Classroom Environment
Children may have personal cubby of classroom materials that only they will use to reduce sharing of materials.
Children will spend more time outdoors.
Windows will remain open as often as possible for optimum airflow.
Staff will:

Facilitate individual play and interactive play in pairs strategically separated to promote physical distancing
Engage children in fun activities, such as using yarn, carpet squares or hula-hoops, that model and demonstrate physical distancing

Administration will provide ongoing support for the health and wellbeing of children and staff as they navigate changes (e.g., special spaces for retreat, materials, mindfulness activities and access to wellness resources).
Reconfiguring Spaces
Pre-COVID-19 (indoors: 35 square feet per child):
One teacher to ten children = one preschool classroom served between 24–32 children
One teacher to four infants/toddlers = one infant/toddler classroom served between 8–12 children
Post-COVID-19 (42–56 square feet per child):
One teacher to five children = one preschool classroom serving "stable" group of 12–13 children (including siblings) with consistent staff
One teacher to two children = one infant/toddler classroom serving "stable" group of 4-6 children with consistent staff
Note: We must have two to three teachers per classroom of 12–13 children to allow for breaks and to maintain hourly sanitization and physical distancing oversight.
Sanitization Procedures
We will expand our standard cleaning procedures by sanitizing specific surfaces more often.
Staff and children will wash their hands more frequently.
Staff will:

Disinfect shared toys, materials, bathrooms, tabletops, door handles and yard surfaces between uses
Launder soft, machine-washable items regularly.

Sanitizing stations above children's reach will be available at all entry points and other designated locations.
Stay Home Guidelines
See the First 5 San Diego COVID-19 Symptom Decision Tree
Children may not enter the center if they, or anyone in their household, have these symptoms upon arrival or within the preceding 72 hours:
Fever of 100.0 or higher
Cough
Sore throat
Muscle aches
Difficulty breathing
Chills/Flu-like symptoms
Vomiting and/or diarrhea
Loss of smell or taste
If any symptoms present while a child is at the center, staff will isolate the child until a parent or guardian arrives for pick up (within 30 minutes). Children must stay home until symptom and fever-free for 72 continuous hours.
A classroom may close for up to 14 days (per COEM/Public Health) while teachers, children and families self-isolate if there is known contact with and/or positive COVID-19 case. If tested positive for COVID-19, a child will need a medical note to return to the center.
All staff and children may be tested for COVID-19 before returning to care. Note: Teachers will be included in the "Return to Learn' Program."
Protocols for Suspected or Confirmed COVID-19 Cases
If we suspect or confirm an active case of COVID-19 at one of our centers, we may need to implement a short-term closure. Our administration will:
Coordinate actions with COEM/local health officials
Dismiss children and classroom staff for:

2-5 days for deep cleaning and disinfecting process
Up to 14 days for quarantine

Communicate procedures and timeline with families
Provide virtual learning, if appropriate
All short-term closure procedures are subject to change depending on conditions and recommendations of COEM/local health officials.
Food Program
Staff will:
Initially, ask families to bring a packed lunch
Suspend family-style eating
Space children farther apart during meal times
Use as many disposable utensils and flatware as possible
Ensure proper hand washing before and after meals
Disinfect tables before and after meals
Temporarily suspend teeth brushing
Essential Worker Families
San Diego families who are designated as essential workers can get information about available school-age care and childcare in the county through the YMCA Enhanced Child Care Referrals for Essential Service Workers program.
Essential worker parents may be eligible for subsidized childcare if the family:
Performs essential work
Requires childcare to perform this essential work
Is unable to complete work remotely
Assets do not exceed $1,000,000.
Subsidized childcare is currently available through September 30, 2020. Apply now
Questions?
Contact us, (858) 246-0900, 7:30 a.m. – 4:30 p.m. weekdays.