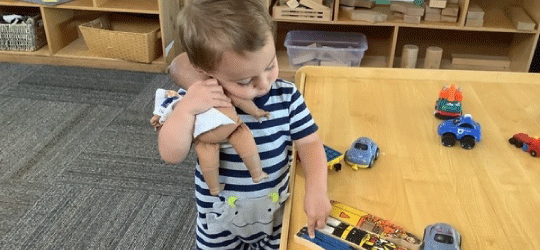 Resources for Parents and Families
A variety of resources are available for parents and families.
Plenty of families run into these:
Your child has to stay home sick
You are caught in-between childcare arrangements
Your usual caregiver is  unavailable
Your child's care center is closed
You need temporary care
Find help:
Emergency Childcare Resources
Backup Childcare
ECEC offers referrals to infant/toddler home-care programs, child care centers and preschool programs in the San Diego area. See other child care options.
In addition to referrals, we provide guidance on how to identify high-quality child care for infants and toddlers, as well as follow-up assessments to help parents evaluate their satisfaction with a childcare arrangement.
You can also visit these sites for more information about off-campus childcare in San Diego:
Campus Resources
Community Resources
Health Screening
ECEC offers all families annual vision, hearing and dental screenings. More information is available prior to the scheduled screening.
Immunization
Alternative Payment Plan
The San Diego County Centralized Eligibility List allows subsidized child development agencies to find children who are eligible for their programs. Get details.
Tuition Assistance/CCAMPIS
UC San Diego students may be eligible to receive tuition assistance for children enrolled at the Early Childhood Education Center through CCAMPIS, a U.S. Department of Education program.
The quality of childcare depends on active parental involvement. Parents of children attending either center are encouraged to drop in and watch their children at play, join in classroom activities and share skills to enrich the curriculum whenever possible.
Family Association
The Family Association supports children's education by working with teachers, offering support, creating community building activities and funding curriculum enrichment opportunities. All parents are invited to attend monthly meetings to help plan upcoming events and share ideas for new events and activities.